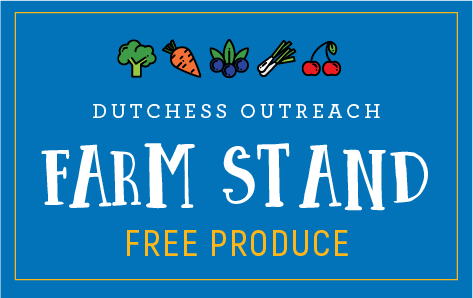 FREE FARM STAND CANCELLED UNTIL FURTHER NOTICE DUE TO COVID-19.
Find out how to get produce through this crisis through the link below. 
The Dutchess Outreach Farm Stand is open to ALL. Don't miss out on FREE fruits and vegetables!
Due to the Novel Coronavirus and the way that it is spread, we are temporarily canceling our Free Farm Stand program.
Are you in need of food? We are still packing groceries that include items of produce and distributing through our pantry program Monday, Tuesday, Thursday, and Friday from 8:30 am – 11:30 am every week.
Please fill out our Food Access Request Form.
FREE PRODUCE ONE FRIDAY A MONTH
The Dutchess Outreach Farm Stand offers FREE produce one Friday a month from 2:30 pm- 4:00 pm.
Absolutely anyone can come and get free fruits and vegetables and PLEASE BYOB(Bring your own bag)!
---
This program is made possible thanks to the Regional Food Bank of Northeastern New York and the Community Foundations of the Hudson Valley.
THANK YOU to the Mid-Hudson Civic Center for hosting us during the winter.
THANK YOU to the City of Poughkeepsie for accommodating us during the summer.
 Interested in volunteering at our Farm Stand?