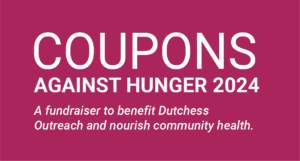 COUPONS AGAINST HUNGER is back! A collection of coupons from many of the fine local restaurants, cafes, breweries, shops, and services to benefit Dutchess Outreach.
Your purchase goes directly towards our general operating expenses, and helps Dutchess Outreach continue to provide food and emergency assistance to our neighbors and throughout Dutchess County.
Thank you for helping us reach our goal of $30,000!
Coupon booklets will be valid through 2024, and go on sale later this year.
Click on the buttons bellow to fill out a form to buy a book today!
COUPON SPONSOR Coupon provider