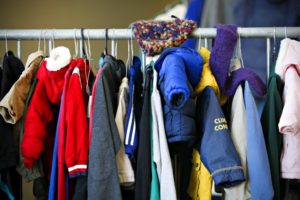 No winter jacket? No problem! Find a Winter Coat Giveaway site near you!
Our 2021 Winter Coat drive is currently scheduled for the following dates/locations.
Lightly used, clean winter coats for ALL and ANY Gender available in all different sizes.
Catch our Manager of Volunteers, Nyhisha Gibbs, and Coat Drive Volunteer, Mary Dynes, on Radio Rotary talking about our coat drive!
---
DISTRIBUTION DATES & LOCATIONS;
Tuesdays, November 9, November 11 & November 23
Dutchess Outreach (during the Lunch meal distribution)
29 N Hamilton Street – Poughkeepsie
11:15 AM – 1:00 PM
Martes, Octubre 26, Noviembre 9, Noviembre 11 & Noviembre 23
Dutchess Outreach (durante la distribución del almuerzo)
29 N Hamilton Street – Poughkeepsie
11:15 AM – 1:00 PM
Sunday, November 14, 2021
Pleasant Valley Library
3 Maggiacomo Lane
Route 44
9:30 AM – 3:00 PM
Domingo, Noviembre 14, 2021
La Biblioteca de Pleasant Valley
3 Maggiacomo Lane
Route 44
9:30 AM – 3:00 PM
Friday, November 19, 2021
Dutchess Outreach Farm Stand Giveaway
489 Main St
Poughkeepsie Trolley Barn
10:00 AM -12:30 PM
Vierne, Noviembre 19, 2021
Dutchess Outreach Sorteo de Puesto de Granja
29 N Hamilton Street – Poughkeepsie
10:00 AM -12:30 PM
Saturday, November 20, 2021
United Methodist Church of Hyde Park
1 Church Street
9:00 AM – 12:00 PM
Sábado, Noviembre 20, 2021
Iglesia Metodista Unidas de Hyde Park
1 Church Street
9:00 AM -12:00 PM
Saturday, November 20, 2021
Northeast Community Center
South Center Street
Millerton
12:00 PM – 2:00 PM
Sábado, Noviembre 20, 2021
Centro Comunitario Noreste
South Center Street
Millerton
12:00 PM – 2:00 PM
Thursday, November 25, 2021
Flowers Family Thanksgiving Giveaway
29 N Hamilton Street
Poughkeepsie
11:00 AM – 1:00 PM
Jueves, Noviembre 25, 2021
Sorteo de acción de gracias de la familia Flowers
29 N Hamilton Street
Poughkeepsie
11:00 AM – 1:00 PM