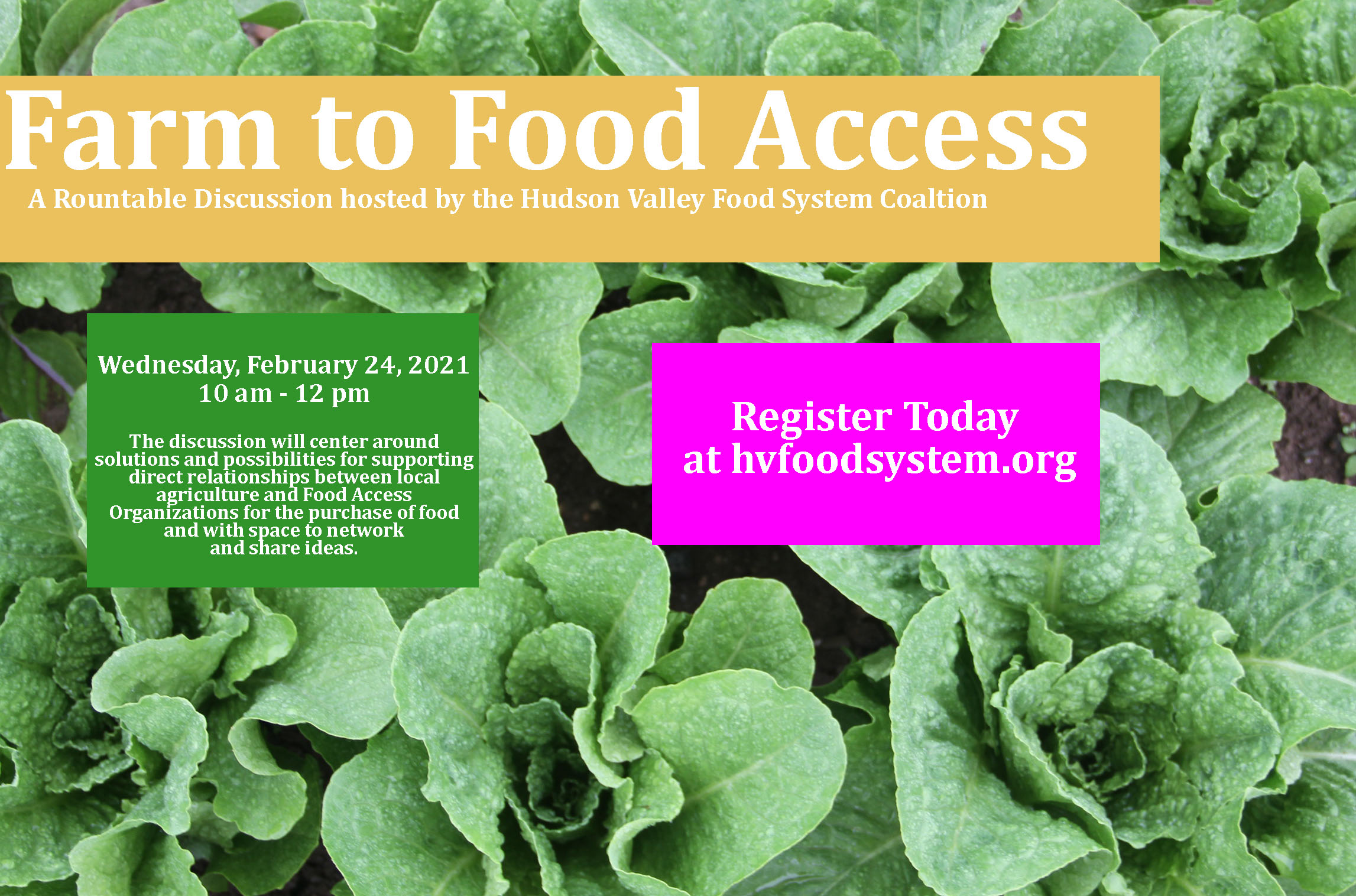 Wednesday, February 24, 2021
The
Hudson Valley Food System Coalition
's Land and Agriculture and Food Access Interest Groups will host a virtual round table discussion on February 24, 2021, from 10 am-12 pm.
The discussion will center around solutions and possibilities for supporting direct relationships between local agriculture and Food Access Organizations for the purchase of food.
We will hear from several relevant projects, including Glynwood Center for Regional Food and Farming's Food Sovereignty Fund, which seeks to pay BIPOC, LGBTQ+, or women-led farms in advance for food through a matching program with community-led food access initiatives, as well as Scenic Hudson and their partnership with FeedHV to purchase and distribute dairy products and Nourish New York, a state initiative which supports farms by providing funding to purchase surplus agricultural products for food access organizations in response to the pandemic.
During this discussion, we will encourage collaborations that would channel local, healthy, and culturally relevant food to community food security projects, and empower agencies to work with farmers in the planning of food types and strengthen agriculture in the area. We intend to establish relevant and lasting relationships, and therefore it is an investment in long-term solutions.
The purpose of this roundtable is to network and discuss solutions regarding farm and feeding agency matching possibilities, learn about takeaways from adjacent program leaders, discover the potential role of the Coalition in supporting this kind of effort, and identify possible avenues of funding and partnership.
After registering, you will receive a confirmation email containing information about joining the session.