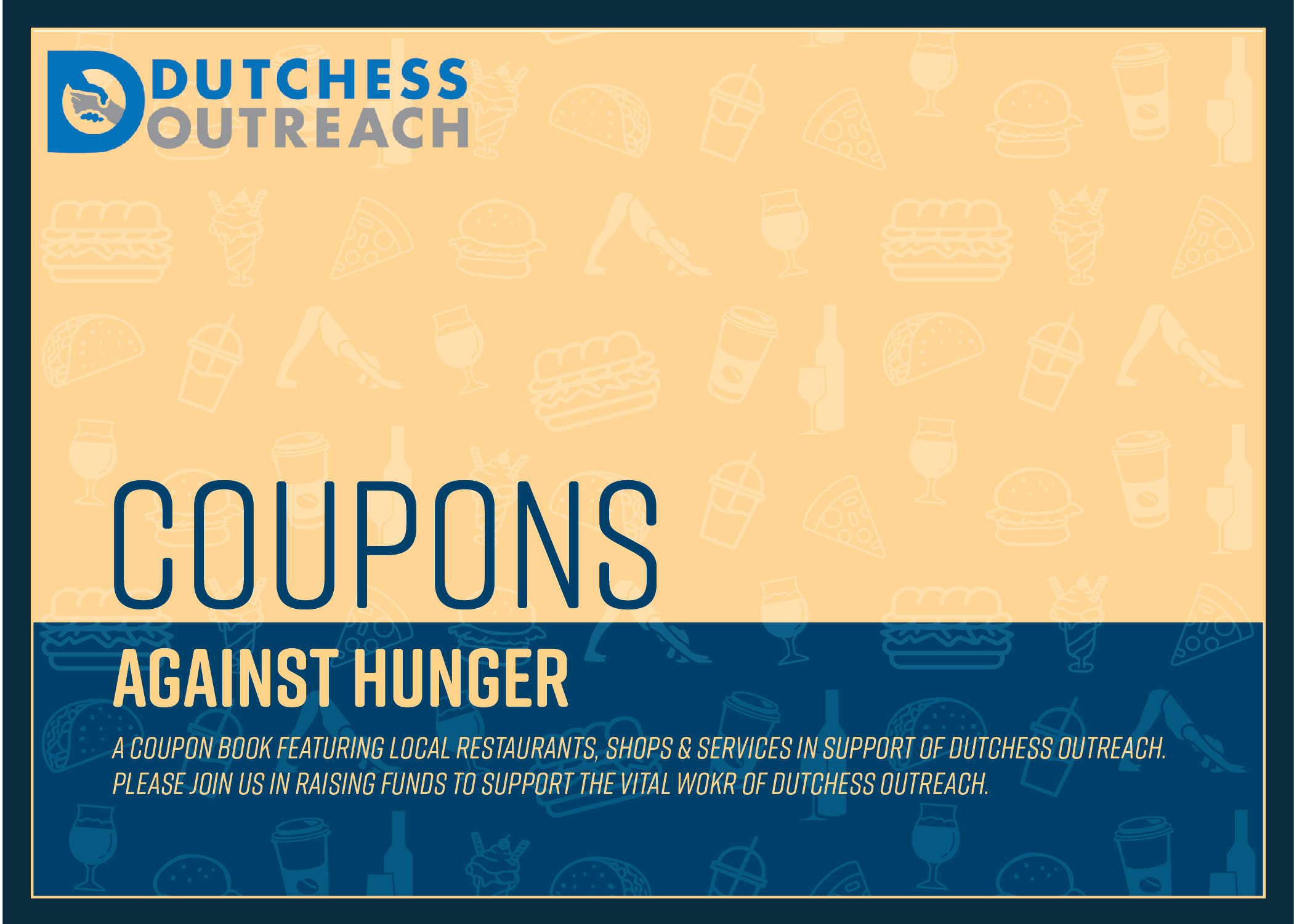 This year, in place of TASTE AGAINST HUNGER, our signature silent auction event, we are presenting a COUPONS AGAINST HUNGER book; a collection of coupons from many of the fine local restaurants, cafes, breweries, shops and services that have participated in past TASTE AGAINST HUNGER events.

COUPONS AGAINST HUNGER books are available for a donation of $100. 
Packed in a handy, zippered canvas pouch and valid through December 2021, the coupon books make great Holiday Gifts and your donation helps Dutchess Outreach continue to provide food and emergency assistance during this especially difficult time for many of our neighbors. We are grateful for your support.
Coupons from the following Businesses/Organizations:
Glynwood, Smoke Haus, Juan Murphy's, Abby Rau, LMT @ I KneadedThis, El Azteca, Bolt Mechanic, Batts Florist and Sweets/Lollipop Tree, Tavern 23, Styles by Maureen, Pleasant Valley Stone, Chakra Bowls, King's Court Brewery, Old Drovers Inn, Emy Delights & Bites, Story Screen, The Poughkeepsie Grind, North River Roasters, Essie's, Bourbon Street Liquors, The Derby, Hudson Valley Sugar Co., Farmers & Chefs, Helen Schweitzer Realty, Adam's Fairacre Farms (PK/WF), Darby O'Gills, The Grille at Novella's, Embers Wood-Fired Oven pizza truck, Mirbeau Inn & Spa, Twisted Soul, Gravity Vault, Giacomo's Pizza Cafe, Antonella's Restaurant, Hangar Cafe ar Sky Acres, KPKatering, Newman's Nosh Deli and Cafe, Noshi's Coney Island, and more. 
Thank you in advance for your support.