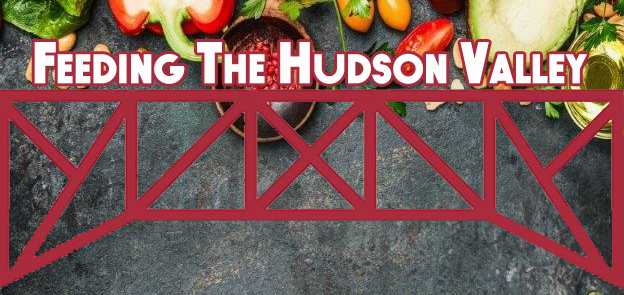 Saturday, October 7, 2017
Join us on Saturday, October 7, 2017 on the Walkway Over the Hudson to HELP STOP FOOD WASTE!
Enjoy a FREE lunch at the Walkway Over the Hudson made from top quality produce that would have otherwise gone to waste.

Feeding the Hudson Valley is a celebration of positive solutions to the issue of food waste. In addition to a free lunch, the event will include live music, expert speakers, local chef demonstrations, educational activities and resources to create awareness about food waste, food recovery, food waste prevention, and feeding hungry people, not landfills.
Organized by the Hudson Valley Regional Council; with partnering support from Community Foundations of the Hudson Valley, Cornell Cooperative Extension Orange County, Dutchess Outreach, Dutchess County Division of Solid Waste, Family of Woodstock Inc, Food Bank of the Hudson Valley, Hudson River Housing, Inc. Hudson Valley Agri-Business DVLPT, Poughkeepsie Farm Project, Rescuing Leftover Cuisine, RVGA Rondout Valley Growers Association and UlsterCorps.
WE NEED VOLUNTEERS!
To volunteer for the event go to:
https://signup.com/client/invitation2/secure/1965471/false#/invitation
For more information, contact Rich Schiafo at rschiafo@hudsonvalleyrc.org, or 845-564-4075 ext. 213.
Funding provided by the NYS Pollution Prevention Institute through a grant from the Environmental Protection Fund as administered by the New York State Department of Environmental Conservation. Any opinions, findings, and/or interpretations of data contained herein are the responsibility of the author(s) and do not necessarily represent the opinions, interpretations or policy of Rochester Institute of Technology and its NYS Pollution Prevention Institute or the State.