Wear Your Support/Share Your Support
We've teamed up with local artist Emily Sylvester to design a special edition tee-shirt to raise funds in support of our work and mission.
As we continue to feed our community through this pandemic, we are grateful to our community of farmers, donors, volunteers, and friends who have reached out their hand to help our most vulnerable neighbors gain access to healthy food and the support they need.
Now, you can wear and share your support.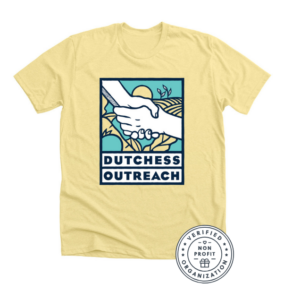 Get your limited Dutchess Outreach Artist tee here;
Choose from 5 different colors.
Our campaign runs through August 18 and orders will start shipping on August 19th.
Please share our campaign, help us spread the word!
Thank you to Emily Sylvester of Emily Sylvester Designs, Beacon, NY.